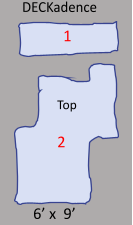 This is a snapshot of how to plot your templates onto DECKadence for a DECKadence marine fit.
In this scenario there are two sections the runner number 1 and the field number 2 requiring a 6' x 9' section. However if you want one section (no seam) you would need a 6' x 12'.
Simply lay the template over DECKadence pay attention to the top and bottom so you cut it properly.
Any extra material you do not use, you can place in your deck hatches, and there's several other uses as well.